protect.Genu
knee support
Includes patella ring
Highly elastic
Breathable fabric
The protect.Genu knee support assists your knee with a silicone patella ring and improves proprioception. The compression fabric offers a massage effect which helps to encourage a rapid reduction of haematoma and oedema (swelling).
The protect.Genu is suitable for all indications, for which soft tissue compression with local compression pad(s) in the area of the patella is necessary. Such as:
slight instability of the knee joint
osteoarthritis of the knee
arthritis
patellofemoral pain syndrome
The integrated silicone pads are designed to help to reduce pain and swelling. It includes a breathable, elastic, and light material, and anatomically shaped knit. The support offers increased comfort by using softer material in the flexion area. The protect.Genu support aims to improve stability and proprioception by supporting your muscles.
Details:
Visco-elastic ring fits around patella
Highly elastic and breathable knitted fabric
Massage effect achieved by the compressive fabric
Seamless, tailored knee support improves proprioception and therefore improves muscular support (stabilisation of the knee)
Intended purpose:
protect.Genui is an knee compressive support for soft tissue compression.

Polyester, Elastane, Polyamide
All compression garments and compression pantyhose (round knit and flat knit), anti-embolism stockings and supports are regularly tested to OEKO-TEX Standard 100 for human ecological harmful substances and assessed. The awarding of the certificate OEKO-TEX Standard 100 guarantees tested quality that safeguards your health.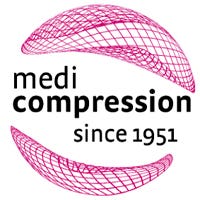 medi World of Compression: signpost to the future with 65 years' competence in the field of compression. The products in the medi World of Compression are marked first and foremost by their versatility, their numerous possible combinations, their first-class finishing and that special wearing feeling – for the 'I feel better' moment.
Do not bleach
Do not dry clean
Do not iron
Do not tumble dry
Wash 30
Slight instability of the knee joint
Articular effusions and swellings
Chronic post-operative and post-traumatic inflammation
Patella chondropathy
Osteoarthritis and arthritis
Meniscus injuries
Patellofemoral pain syndrome
Diseases or injuries to the skin
Sensitivity or perfusion disorders in the legs or feet
Lymph drainage disorders
We found other products you might like!