medi travel women
compression socks
Fashionable travel sock
light and refreshed legs
soft material
medi travel® women is a fashionable travel sock for women. With its compressive knitted fabric, the inconspicuous compression sock contributes to light, refreshed and relaxed legs on journeys.
The soft antistatic material of medi travel® women below-knee travel socks for women makes it possible to don and doff them easily. With the soft and smooth cuff border and the Clima Fresh technology, the travel sock also ensures maximum comfort. The medical compression sock medi travel® women differs from conventional support stockings by virtue of its controlled upwardly decreasing pressure gradient.
Compression garments with a defined pressure gradient can reduce the risk of a traveller's thrombosis - ensuring that the wearer reaches their destination with fresh and light legs.
The socks are available in the black and caramel and have the appearance of a regular semi-transparent stocking."
Details:
Please note "petite" is special order only so please allow up to 2 weeks for delivery.
Clima Comfort for high breathability
Clima Fresh for the whole leg
Soft, comfortable topband
Semi-transparent
Grip-knit technique prevents slippage
RAL compression class 1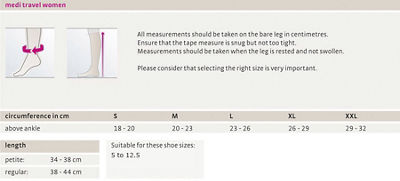 Active breathing, elastic materials and a high quality finish combine to ensure patient comfort.
All compression garments and compression pantyhose (round knit and flat knit), anti-embolism stockings and supports are regularly tested to OEKO-TEX Standard 100 for human ecological harmful substances and assessed. The awarding of the certificate OEKO-TEX Standard 100 guarantees tested quality that safeguards your health.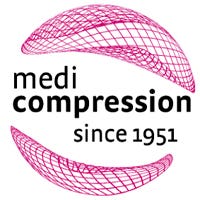 medi World of Compression: signpost to the future with 65 years' competence in the field of compression. The products in the medi World of Compression are marked first and foremost by their versatility, their numerous possible combinations, their first-class finishing and that special wearing feeling – for the 'I feel better' moment.

Reduces perspiration and prevents the skin from drying out. This is achieved by the patented knit which ensures rapid moisture transportation. This allows temperature moderation throughout the garments.

Clima Fresh: The integrated Clima Fresh function has an odour-inhibiting effect. This is achieved via special thread technology or via special processing during the production process.
Do not bleach
Do not dry clean
Do not iron
Tumble dry at low temperatures (delicates cycle)
Wash 40