mediven elegance
maternity tights
Transparent fine stocking style
Soft Elastic toe area
Smaller heel
All you see is beauty:mediven elegance®is a round-knit medical compression stocking in transparent fine stocking fabric. It is used for compression – in the treatment of symptoms and disorders of the venous system of the leg, among other things.
The choice of the optimum compression stocking depends on the indication and the patient's individual needs:
Due to the material thickness, the fabric characteristics and fit, mediven elegance® is particularly suitable for adults of a healthy BMI weight, who do not show any tendency to venous oedema (leg swelling) and have firm connective tissue.*
* Please note that this recommendation does not replace a doctor's or clinician's diagnosis.
The conditions (indications):
chronic venous disease stage I according to Widmer or C0s – C2 according to CEAP
initial phase following varicose therapy
superficial venous thrombosis
thrombosis prophylaxis in mobile patients
inflammatory dermatoses of the legs
nausea and dizziness in pregnancy
The Soft Elastic toe area guarantees more freedom for the toes and increased comfort, while the smaller heel ensures a wrinkle-free fit. Thanks to the wide and soft cuff of the knee-length style, the stockings do not cut into the skin. Attractive topband options are available for the thigh-length stockings.
mediven elegance® underlines feminine beauty. It pampers the legs with its compressive effect, moulding itself to the leg like a second skin. It can be combined with every outfit and accentuates the feminine figure perfectly.
Intended purpose:
Round--knitted medical stockings are used for compression of the lower extremities, mainly for the treatment of disorders of the venous and lymphatic systems
Delivery time for non-returnable trend colours (cashmere, caramel, sand, white, navy, anthracite, medi magenta, grey chestnut, raspberry-red, lilac and sage-green) approx. 10-15 working days.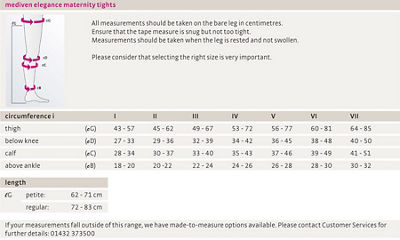 Clima Fresh: The integrated Clima Fresh function has an odour-inhibiting effect. This is achieved via special thread technology or via special processing during the production process.

Active breathing, elastic materials and a high quality finish combine to ensure patient comfort.

The new knitting technique increases wearing comfort with a greater feeling of freedom for the toes and less pressure in the area of the forefoot with a closed toe.
All compression garments and compression pantyhose (round knit and flat knit), anti-embolism stockings and supports are regularly tested to OEKO-TEX Standard 100 for human ecological harmful substances and assessed. The awarding of the certificate OEKO-TEX Standard 100 guarantees tested quality that safeguards your health.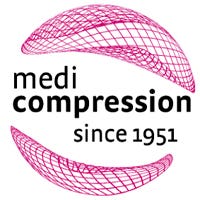 medi World of Compression: signpost to the future with 65 years' competence in the field of compression. The products in the medi World of Compression are marked first and foremost by their versatility, their numerous possible combinations, their first-class finishing and that special wearing feeling – for the 'I feel better' moment.

Reduces perspiration and prevents the skin from drying out. This is achieved by the patented knit which ensures rapid moisture transportation. This allows temperature moderation throughout the garments.
Do not bleach
Do not dry clean
Do not iron
Tumble dry at low temperatures (delicates cycle)
Wash 40
Chronic venous disease: C0s - C2 according to CEAP
Initial phase following varicose therapy
Superficial venous thrombosis
Thrombosis prophylaxis in mobile patients
Inflammatory dermatoses of the legs
Nausea, dizziness in pregnancy
advanced peripheral arterial occlusive disease
decompensated heart diseases (NYHA III + IV)
septic phlebitis
Phlegmasia coerulea dolens
Cautions
advanced peripheral arterial occlusive disease
decompensated heart diseases (NYHA III + IV)
septic phlebitis
Phlegmasia coerulea dolens