Lumbamed maternity
back support
Fully adjustable fitting possible
Comfortable soft material
Simple application
Pregnancy means enormous changes to the body. Above all, the growing baby bump shifts the centre of gravity and increases the stress and strain on the pelvis and lumbar spine. This can cause symptoms and pain. Lumbamed® maternity is a support that has been especially developed to ease painful conditions in the lumbar spine during pregnancy.
Thanks to the tension straps, the support is infinitely adjustable and can be adapted to the growing tummy. The user can flexibly dose the degree of support.
The material is pleasantly soft and moulds itself to the shape of the pregnant tummy.
The loop is on the outside allows for an easy and effortless application of the support.
Lumbamed® maternity stabilises the lumbar spine with dosable pressure, so that it can, among other things, relieve symptoms of abdominal stretch, hyperlordosis, lower back pain or sciatica. The fabric completely surrounds the abdomen. Together with the integrated stabilisation rods and individually dosable tension, the support relieves the increased strain caused by the baby bump. The reduced pull of the lower abdomen relieves the abdominal wall, pelvis and the lumbar spine. This can counteract back pain.
Important to know: the Lumbamed® maternity lumbar support does not restrict the unborn baby's freedom of movement.
Intended purpose:
Lumbamed maternity is a brace for stabilising the lumbar spine using pressure that can be applied at different levels.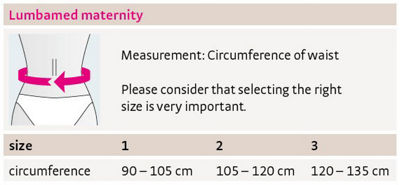 Cotton, Polyamide, Polyester, Polyurethane
Do not bleach
Do not dry clean
Do not iron
Can be washed by hand at 30 degrees.
Do not tumble dry
All indications which require stabilisation of the lumbar vertebrae with a range of pressure levels, such as:
Pain in the lumbar region during pregnancy
Complaints due to abdominal expansion
Hyperlordosis due to pregnancy
Lower back pain
Lumbago combined with sciatica
Lumbamed maternity should not be used if the patient suffers from an inguinal hernia.
We found other products you might like!