duomed® soft 2easy®
2 piece compression system
Very easy to put on
Unique 2 piece system
Comfortable to wear
duomed soft 2easy is a unique 2 piece system comprising of an anklet and calf sleeve. duomed soft 2easy was designed by a UK clinician to simplify the application and removal of compression stockings. First apply the closed toe anklet and then slide the calf sleeve over the anklet until the bottom of the calf sleeve lines up with the pink triangle at the top of the anklet. duomed soft 2easy is supplied as a pair (2 anklets and 2 calf pieces).
Details:
2 piece system comprises calf sleeve and anklet
Offers light graduated compression
For the management of venous conditions and leg swelling
Supports motivation to wear prescribed compression as it is so easy to apply and take off
Intended purpose:

Round knitted medical stockings are used for compression of the lower extremities, mainly for the treatment of disorders of the venous systems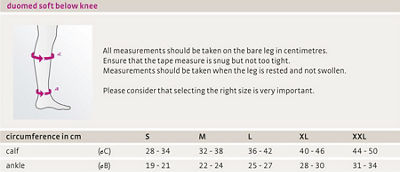 All compression garments and compression pantyhose (round knit and flat knit), anti-embolism stockings and supports are regularly tested to OEKO-TEX Standard 100 for human ecological harmful substances and assessed. The awarding of the certificate OEKO-TEX Standard 100 guarantees tested quality that safeguards your health.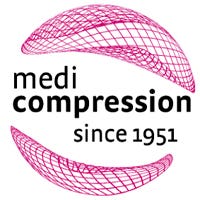 medi World of Compression: signpost to the future with 65 years' competence in the field of compression. The products in the medi World of Compression are marked first and foremost by their versatility, their numerous possible combinations, their first-class finishing and that special wearing feeling – for the 'I feel better' moment.
Do not bleach
Do not dry clean
Do not iron
Tumble dry at low setting
Wash 40
Chronic venous disease: C0s - C4 according to CEAP
Initial phase following varicose therapy
Congestion complaints and oedema in pregnancy
postoperative reperfusion oedema
Post-traumatic, postoperative, occupational oedema, medicinally induced oedema
Oedema due immobility
Superficial venous thrombosis
Condition after thrombosis, post-thrombotic syndrome
Thrombosis prophylaxis in mobile patients
Inflammatory dermatoses of the legs
Nausea, dizziness in pregnancy
advanced peripheral arterial occlusive disease
decompensated heart diseases (NYHA III + IV)
septic phlebitis
Phlegmasia coerulea dolens
Cautions:
concomitant dermatoses
intolerance to compression stocking fabric
sensory disturbances of the limb
advanced peripheral neuropathy
primary chronic arthritis
We found other products you might like!