mediven forte
compression tights
Maximum pressure stability
Deep functional effect
Opaque look
All you feel is protection. Round knit compression has never been so powerful mediven® forte is a round-knit medical compression stocking that, thanks to its strong material, ensures pressure stability and a deep functional effect all day long. This stocking keeps severe conditions (indications) at bay, so that everyone can lead an active life. The strong material enables the deep functional effect. Due to the material thickness, the product characteristics and fit, mediven® forte is particularly recommended for heavier BMI weight men and women with light to high tendency to venous oedema (leg swelling) as well as for those with soft connective tissue.*
*Please note that this recommendation does not replace a doctor's or clinician's diagnosis.
The conditions (indications):
chronic venous disease stages I to III according to Widmer or C0s – C5 according to CEAP
initial phase following varicose therapy
functional venous insufficiency due to obesity
congestion problems and oedema during pregnancy
postoperative reperfusion oedema
post-traumatic, postoperative, occupational, medicinally induced oedema
oedema due to immobility
superficial venous thrombosis
deep leg vein thrombosis
condition after thrombosis, post-thrombotic syndrome
thrombosis prophylaxis in mobile patients
inflammatory dermatoses of the legs
nausea and dizziness in pregnancy
The opaque look of mediven® forte conceals varicose veins. The stable soft cuff of the below knee style stocking provides a gentle hold for a secure fit and comfort. The closed toe option is available in two foot lengths: small foot up to 23 cm, large foot from 23 cm.
Product benefits:
High working pressure for extra deep action
Quality testing to the Öko-Tex Standard 100 ensures dermatologically confirmed skin tolerability
Clima Fresh throughout the leg
Highly elastic and non-slip for constant pressure all day long
Dimensionally stable soft cuff at AD
Double-layer fabric at the foot border
Two foot lengths for the series with closed toes: small foot up to 23 cm; large foot over 23 cm
Intended purpose:
Round--knitted medical stockings are used for compression of the lower extremities, mainly for the treatment of disorders of the venous and lymphatic systems

The technology integrated in the medi high-tech yarn promises you freshness and hygiene all day long. The natural odour neutrality remains permanently. Clima Fresh stops bacteria and micro-organisms colonising your compression garment

Active breathing, elastic materials and a high quality finish combine to ensure patient comfort.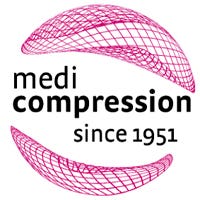 medi World of Compression: signpost to the future with 65 years' competence in the field of compression. The products in the medi World of Compression are marked first and foremost by their versatility, their numerous possible combinations, their first-class finishing and that special wearing feeling – for the 'I feel better' moment.
Wash 40
Do not bleach
Do not dry clean
Do not iron
Chronic venous disease: C0s - C5 according to CEAP
Initial phase following varicose therapy
Functional venous insufficiency due to obesity
Congestion complaints and oedema in pregnancy
Postoperative reperfusion oedema
Post-traumatic, postoperative, occupational oedema, medicinally induced oedema
Oedema due immobility
Superficial venous thrombosis
Deep vein thrombosis
Condition after thrombosis, post-thrombotic syndrome
Thrombosis prophylaxis in mobile patients
Inflammatory dermatoses of the legs
Nausea, dizziness in pregnancy
Advanced peripheral arterial occlusive disease
Decompensated heart diseases (NYHA III + IV)
Septic phlebitis
Phlegmasia coerulea dolens
Cautions:
Concomitant dermatoses
Intolerance to compression stocking fabric
Sensory disturbances of the limb
Advanced peripheral neuropathy
Primary chronic arthritis
We found other products you might like!