medi wrist support
wrist support
Extra wide supporting strap for the wrist
Skin-friendly material
medi Wrist support is an orthosis for the wrist. The product is exclusively to be used for the orthotic fitting of the wrist and only on intact skin.
Product benefits:
Extra wide supporting strap for the wrist
Mouldable aluminium splint
Made of skin-friendly, robust cotton lycra material
Intended purpose:
medi Wrist support is a wrist brace for immobilizing the wrist in at least two directions of mobilisation.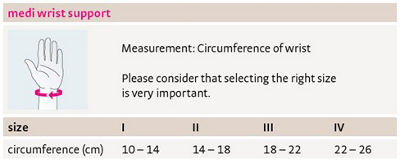 All compression garments and compression pantyhose (round knit and flat knit), anti-embolism stockings and supports are regularly tested to OEKO-TEX Standard 100 for human ecological harmful substances and assessed. The awarding of the certificate OEKO-TEX Standard 100 guarantees tested quality that safeguards your health.
Do not bleach
Do not dry clean
Do not iron
Do not tumble dry
Wash 30
All indications in which an immobilization of the wrist in at least two directions of movement with free finger mobility is necessary, such as:
Immobilisation after distorsions
Tendonitis and / or tenosynovitis
After distal radius fracture (nonsurgical, postoperative)
Rheumatoid arthritis
Carpal tunnel syndrome
Postoperative after triangular fibrocartilage complex repair
Guyon's canal syndrome
Unstable fractures of the hand
We found other products you might like!