duomed soft® thigh length
compression stockings
Silicone topband
Latex free
British Standard compression
DUOMED soft thigh length compression stockings - daily wear for gentle care. Graduated compression elastic hosiery in compliance with British Standard (BS 6612:1985)

Details:
CCL 3 only available in colour Sand with open toe
BS CCL 1: 14 - 17 mmHg
BS CCL 2: 18 - 24 mmHg
BS CCL 3: 25 - 35 mmHg
UNIQUE FEATURE: British Standard elastic hosiery with a silicone topband
Notes & tips: Silicone is an inert substance and therefore will not cause an allergic reaction. In some cases irritation may occur but this is caused by the skins properties - mainly the products used on the skin (skin care products), heat (perspiration) and hygiene or a combination of all 3 things.
Top tips to combat any irritation are:
Do not use emollients directly where the silicone topband is going to sit
Change the topband position throughout the day (only a slight move is necessary) - this allows any perspiration beneath the silicone to dry
Clean the topband with damp cloth (no soap) in order to remove any washing powder or fabric softener -the residue of these products can cause an allergic reaction
Intended purpose:
Round knitted medical stockings are used for compression of the lower extremities, mainly for the treatment of disorders of the venous systems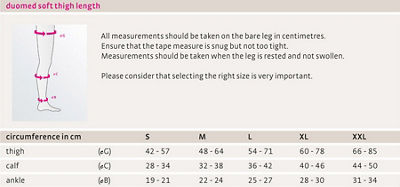 All compression garments and compression pantyhose (round knit and flat knit), anti-embolism stockings and supports are regularly tested to OEKO-TEX Standard 100 for human ecological harmful substances and assessed. The awarding of the certificate OEKO-TEX Standard 100 guarantees tested quality that safeguards your health.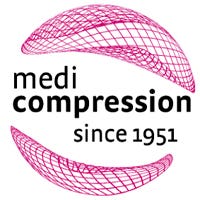 medi World of Compression: signpost to the future with 65 years' competence in the field of compression. The products in the medi World of Compression are marked first and foremost by their versatility, their numerous possible combinations, their first-class finishing and that special wearing feeling – for the 'I feel better' moment.
Do not bleach
Do not dry clean
Do not iron
Tumble dry at low temperatures (delicates cycle)
Wash 40
Chronic venous disease: C0s - C4 according to CEAP
Initial phase following varicose therapy
Congestion complaints and oedema in pregnancy
postoperative reperfusion oedema
Post-traumatic, postoperative, occupational oedema, medicinally induced oedema
Oedema due immobility
Superficial venous thrombosis
Condition after thrombosis, post-thrombotic syndrome
Thrombosis prophylaxis in mobile patients
Inflammatory dermatoses of the legs
Nausea, dizziness in pregnancy
Advanced peripheral arterial occlusive disease
Cecompensated heart diseases (NYHA III + IV)
Septic phlebitis
Phlegmasia coerulea dolens
Cautions:
Concomitant dermatoses
Intolerance to compression stocking fabric
Sensory disturbances of the limb
Advanced peripheral neuropathy
Primary chronic arthritis