mediven Struva 23
Anti-embolism stocking with 23mmHg at the ankle
Latex free
Easy to put on
Anatomically shaped
Optimum care for post-operative patients.
Details:
mediven® struva® 23 is a round-knit clinical, lower limb compression stocking. An effective alternative to conventional compressive circular bandages after operative procedures.
Precise defined compression gradient ensures high medical efficacy.
Safe and simple to use. Comfortable to wear.
Suitable for thigh circumferences of up to 78cm.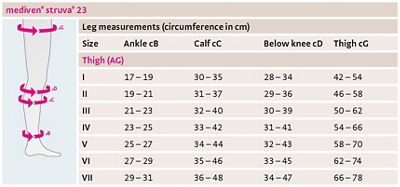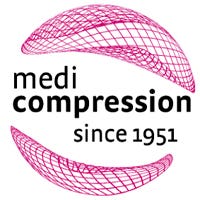 medi World of Compression: signpost to the future with 65 years' competence in the field of compression. The products in the medi World of Compression are marked first and foremost by their versatility, their numerous possible combinations, their first-class finishing and that special wearing feeling – for the 'I feel better' moment.
Do not bleach
Do not dry clean
Do not iron
Tumble dry at low temperatures (delicates cycle)
Wash 95
Prevention and therapy of post-operative and post-traumatic oedema and haematoma.
Reduction of concomitant pain (eg orthopaedic or venous surgery).
Physical thrombosis prophylaxis in partially mobile patients - pre-, intra, and post-operative.
Therapy of venous leg ulcers in immobile/partially mobile patients.
Advanced peripheral arterial occlusive disease (if one of these parameters is present: ABPI < 0.5, ankle arterial pressure < 60 mmHg, toe pressure < 30 mmHg or TcPO2 < 20 mmHg on dorsum of foot), Decompensated heart failure (NYHA III + IV), Septic thrombophlebitis, Phlegmasia cerulea dolens, Massive leg oedema.