mediven mondi
compression tights
Low wall stability
High transverse stretch
soft, sheer knitted fabric
mediven mondi® compression tights is a flat knit medical stocking for compression of the legs. It is mainly used in the treatment of diseases of the lymphatic system and for lipoedema. Thanks to its low wall stability and high transverse stretch, the compression stocking is suitable for newcomers to flat knit garments It scores points with its particularly soft and sheer knitted fabric, while the high transverse stretch ensures lower pressure.
For the treatment of chronic wounds or neurodermatitis (atopic dermatitis), the compression stocking is also available with silver segments that have an antibacterial effect – for better skin protection. The Clima Fresh function prevents odours, above all in warm temperatures.
mediven mondi® compression garments are particularly suitable for patients with normal to firm connective tissues and normal leg shapes without pronounced skin folds or large differences in circumferences (sudden changes in calibre). The product is suitable for lipoedema and lymphoedema up to stage II and is always made to measure. mediven mondi® can also be used for chronic venous insufficiency with a pronounced tendency for oedema to form. The compression stocking is available in 11 fashionable colours and with sparkling crystals – so everybody can find a model that suits them.
Product benefits:
Available with silver segments: antibacterial effect, e.g. for patients with chronic wounds, atopic dermatitis
Supple knit
Many possible combinations with special extras
Fashionable variety: 6 standard colours and 5 trend colours
Intended purpose:
Flat-knitted medical stockings are used for compression of the lower extremities, mainly for the treatment of disorders of the venous and lymphatic systems

Active breathing, elastic materials and a high quality finish combine to ensure patient comfort.

Available in seven sizes and numerous versions to cater for the specific needs of a wide range of patients.
All compression garments and compression pantyhose (round knit and flat knit), anti-embolism stockings and supports are regularly tested to OEKO-TEX Standard 100 for human ecological harmful substances and assessed. The awarding of the certificate OEKO-TEX Standard 100 guarantees tested quality that safeguards your health.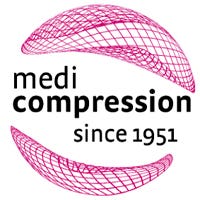 medi World of Compression: signpost to the future with 65 years' competence in the field of compression. The products in the medi World of Compression are marked first and foremost by their versatility, their numerous possible combinations, their first-class finishing and that special wearing feeling – for the 'I feel better' moment.

Reduces perspiration and prevents the skin from drying out. This is achieved by the patented knit which ensures rapid moisture transportation. This allows temperature moderation throughout the garments.

Clima Fresh: The integrated Clima Fresh function has an odour-inhibiting effect. This is achieved via special thread technology or via special processing during the production process.
Do not bleach
Do not iron
Do not tumble dry
Tumble dry at low temperatures (delicates cycle)
Wash 40
Primary and secondary lymphoedema stages 1 and 2
Lipoedema stages 1 and 2
Post-operative oedema
Post-traumatic oedema
Scar treatment
Advanced peripheral arterial occlusive disease (if one of these parameters is present: ABPI < 0.5, ankle arterial pressure < 60 mmHg, toe pressure < 30mmHg or TcPO2 < 20 mmHg on dorsum of foot). When non-elastic materials are implemented, the patient can still try out compression stocking if they have ankle arterial pressure between 50 and 60 mmHg and they are under close clinical supervision.
Decompensated heart failure (NYHA III + IV)
Septic thrombophlebitis
Phlegmasia cerulea dolens
Cautions
Severe weeping dermatosis
Intolerance to compressive material
Severe paraesthesia in the limbs
Advanced peripheral neuropathy (e.g. in diabetes mellitus
Primary chronic polyarthritis