mediven harmony
compression glove
Available in RAL CCL 1 & CCL 2
Compressive fingers & thumb
Available in sand
mediven harmony® compression gloveis a round-knit medical compression garment for the arms. The innovative knit gives mediven harmony® the perfect balance between freedom of movement and medical compression. Two integrated elbow ellipses reduce wrinkling in the bend of the arm. This prevents constriction, pressure areas and skin irritation.
The armsleeve is used for disorders of the venous system, such as arm vein thrombosis and postoperative and post-traumatic oedema. It is available with and without a hand piece. Wearing the medical compression garment counteracts oedema formation in the hand region. The armsleeve is available in seven standard sizes.
Intended purpose:
Round-knit medical compression glove, used for compression of the upper extremities, mainly for the treatment of disorders of the venous and lymphatic systems.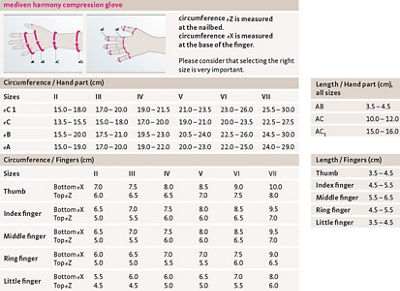 Available in seven sizes and numerous versions to cater for the specific needs of a wide range of patients.
All compression garments and compression pantyhose (round knit and flat knit), anti-embolism stockings and supports are regularly tested to OEKO-TEX Standard 100 for human ecological harmful substances and assessed. The awarding of the certificate OEKO-TEX Standard 100 guarantees tested quality that safeguards your health.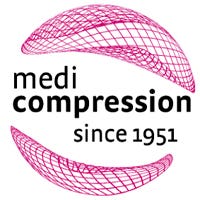 medi World of Compression: signpost to the future with 65 years' competence in the field of compression. The products in the medi World of Compression are marked first and foremost by their versatility, their numerous possible combinations, their first-class finishing and that special wearing feeling – for the 'I feel better' moment.

Reduces perspiration and prevents the skin from drying out. This is achieved by the patented knit which ensures rapid moisture transportation. This allows temperature moderation throughout the garments.

Active breathing, elastic materials and a high quality finish combine to ensure patient comfort.
Do not bleach
Do not dry clean
Do not iron
Wash 40
Arm vein thrombosis
Post-operative and post-traumatic oedema (Note: not suitable for pronounced edema!)
Primary and secondary lymphoedema stage 1
Lipoedema stage 1
Post-operative oedema
Post-traumatic oedema
Post-operative reperfusion oedema
Oedema caused by taking medication which cannot be altered (no viable alternative)
Cyclic idiopathic oedema
Superficial vein thrombosis
Venous thrombosis of the upper extremity
A post-thrombotic condition
Thrombotic prophylaxis in mobile patients
Advanced peripheral arterial occlusive disease (if one of these parameters is present: ABPI < 0.5, ankle arterial pressure < 60 mmHg, toe pressure < 30mmHg or TcPO2 < 20 mmHg on dorsum of foot). When non-elastic materials are implemented, the patient can still try out compression stocking if they have ankle arterial pressure between 50 and 60 mmHg and they are under close clinical supervision.
Decompensated heart failure (NYHA III + IV)
Septic thrombophlebitis
Phlegmasia cerulea dolens
Cautions:
Severe weeping dermatosis
Intolerance to compressive material
Severe paraesthesia in the limbs
Advanced peripheral neuropathy (e.g. in diabetes mellitus>
Primary chronic polyarthritis