medi shoulder sling kidz
shoulder support
Immobilises shoulder joint
Removable chest strap
Fully adjustable
The medi Shoulder sling Kidz is a shoulder joint support. The product is exclusively to be used for the orthotic fitting of the shoulder and only on intact skin.
Intended purpose:
medi shoulder sling kidz is a shoulder joint brace for immobilisation in a defined position.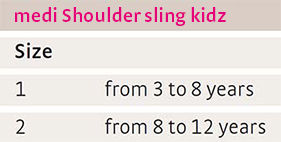 All compression garments and compression pantyhose (round knit and flat knit), anti-embolism stockings and supports are regularly tested to OEKO-TEX Standard 100 for human ecological harmful substances and assessed. The awarding of the certificate OEKO-TEX Standard 100 guarantees tested quality that safeguards your health.
Do not bleach
Do not dry clean
Do not iron
Do not tumble dry
Wash 30
All indications requiring immobilization of the shoulder joint in internal rotation, such as:
Nonsurgical treatment after anterior shoulder dislocation and /or chronic subluxation
After rotator cuff repair
Acromioclavicular joint dislocation (nonsurgical, postoperative
Scapula fractures (nonsurgical, postoperative)
Fractures of the humerus head (nonsurgical, postoperative)
All indications that specifically require abduction and/or external rotation
Nonsurgical and postoperative treatment of posterior shoulder luxation