medi
elastic ankle support 501
Seamless
Moulds to the anatomy
The medi elastic ankle support 501 is characterised by its seamless two-way stretch knitted fabric that moulds to the anatomy. The elastic ankle support fits snugly to the contours of the foot like a second skin for good comfort. Furthermore, the compressive knitted fabric of the two-way stretch ankle support can improve proprioception, which can in turn support the body's own guidance and stabilise the joint.
The medi elastic ankle support can be worn when soft tissue compression at the ankle joint is necessary. This is, for example, the case for slight instabilities of the ankle joint, for sprains and distorsions. Furthermore for joint effusions and swellings due to arthritis and osteoarthritis or inflammation of the ankle joint (arthritis).
The medi elastic ankle support is characterised by its seamless two-way stretch knitted fabric that moulds to the anatomy. It also has a Clima Comfort* function for increased breathability: this ensures that the garment is comfortable to wear. Modern fibre technology wicks moisture away from the skin's surface quickly and ensures a high level of breathability.
The Clima Fresh function also promotes the pleasant wearing feeling. The innovative thread technology and special processing during the production process ensure that the support has an antibacterial action and prevents odours. Thus the elastic ankle support is suitable for use in everyday life as well as for sporting activities.
Intended purpose:
The medi ankle support is a support for soft tissue compression of the ankle joint.
*Scientifically tested by the French Institut IFTH. The test result shows that Clima Comfort technology from medi guarantees climate exchange between the skin and the garment. medi achieved an outstanding total score with 11 out of 12 points.

All compression garments and compression pantyhose (round knit and flat knit), anti-embolism stockings and supports are regularly tested to OEKO-TEX Standard 100 for human ecological harmful substances and assessed. The awarding of the certificate OEKO-TEX Standard 100 guarantees tested quality that safeguards your health.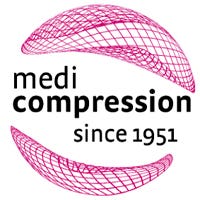 medi World of Compression: signpost to the future with 65 years' competence in the field of compression. The products in the medi World of Compression are marked first and foremost by their versatility, their numerous possible combinations, their first-class finishing and that special wearing feeling – for the 'I feel better' moment.
Wash 30
Do not bleach
Do not dry clean
Do not iron
Do not tumble dry
All indications in which soft tissue compression at the ankle joint is necessary, such as:
Mild instability
Contusions, sprains
Swelling and joint effusion (osteoarthritis / arthritis)